Racism in Texas: alive and well, as always...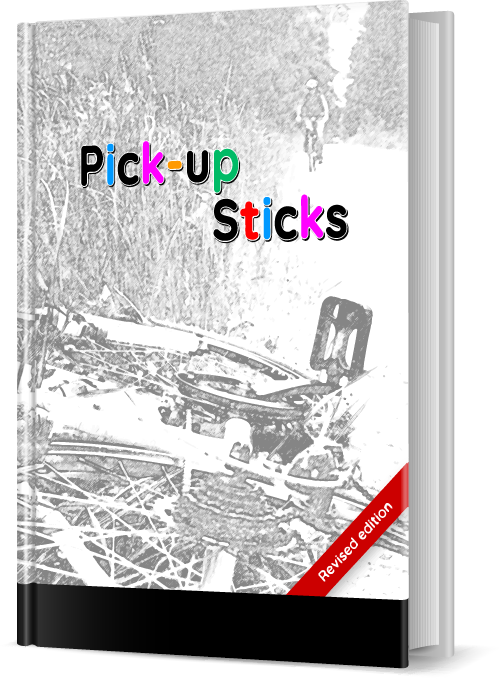 COMPULSION. MEDICATION.
RACE. CHILD.
YOUR LITTLE 1960s TEXAS TOWN
BROOKS TIGNER
Reviews
An excellent and timely puzzler with social and historical dimensions. A thinking person's mystery novel, Pick-Up Sticks is not a sanitized, Disneyland version of childhood or the past. It delivers a complex, thoughtful, satisfying puzzle requiring alert vigilance and participation from the reader, who is rewarded manifold for his or her tenacity.
Notwithstanding the comic relief of high gothic, mint-julippy antics and over-the-top Southern satire, such as the University Baptist wedding reception, Tigner's frightening rendition of "the good old days with the good old boys" is a deadly serious portrayal of a period many of us hoped had been put largely behind us. It bears re-examining in our present climate of nostalgia, in certain sectors, for "simpler" times. This book is well-worth a careful read. It will haunt you for some time to come.
-- Poet and author, Diane G. Martin has been awarded the Diana Woods prize for creative nonfiction, and published in several publications including OJAL, Poetry Circle, and New London Writers. She is also a photographer who has been exhibited in the United States, Russia, and Italy.
---
A powerfully written tale that exposes the frightful darkness which can hide behind the otherwise ordinary facade of small-town life. Tigner's prose and well-written dialogue will make you deeply uncomfortable and pray that the picture they paint is one that is forever buried in the past, and will never again be part of our future.
-- Amir Husain, "The Sentient Machine" (Scribner)
A widow with a five-year old boy in 1964 had little chance of getting hitched again in small-town Texas, but Cathy got lucky: she was approached by a doctor. He'd replace the father figure her son Carey had lost the year before. Or so she thought.
Her new husband had a big house with a full-time maid, Cilla, plus handyman Lamar, Cilla's son, who kept the yard going year-round between his other odd jobs.
Sev was sophisticated, cultured, disciplined, hard-working. And self-medicating: a darkening habit, feeding other habits, whose tentacles soon spread out in sinister ways to envelope Lamar, other members of the county's impoverished black community and, ultimately, Carey himself.
Only Cilla is witness to the subtle, slowly evolving malaise. But it is Felicia, Lamar's girlfriend, who pieces it all together – and pays the price...though she's not the only one who gets the sharp end of the stick.
Readers react to P

i

c

k

-

u

p

S

t

i

c

k

s
A gripping story (or rather stories within stories), written in a lyrical, semi-Southern-Gothic style that fits the tale. Mr. Tigner has a keen "sense of place" and atmosphere that makes the book's environment come to life. A wonderfully haunting book.
Theresa Hitchens, technology editor, policy analyst and writer; senior research associate at CISSM (Center for International and Security Studies at Maryland)
Though a very personal, sometimes tender story, this book reveals Texas as it was: isolated, bawdy, racist, class-conscious, polite and downright funny. It reveals, as well, the pain and confusion wrought by a selfish man on his family and others who depend on him. Many of the characters are indelibly drawn with few words and dialogue only a local could write. I feel as though I have met a couple of them; and can almost taste the barbecue; feel the stifling heat of the Lone Star State.
Archie Harders, bibliophile, Arlington, VA
Our author obviously knows East Texas. He has captured the speech patterns and lifestyle of that era perfectly - one of my most enjoyable parts of his story. We have a gifted new author.
Dolphia Blocker, resident, California
In his family-thriller novel, Pick-up Sticks, Brooks Tigner pulls back the curtain on corruption, vice and immorality pervasive in the everyday life of a rural East Texas town, rife with false realities. From the banks of toxic creosote ponds to the upper echelons of higher education, his story weaves an accurate representation of how it was to live back then. Regardless of one's perspective, the poignancy of his characters is enlightening, immersing all in the psycho-Sixties and a society still adjusting to post-Civil War realities while resisting the post-War Two modern world at its doorstep.
Linda-Watson Jones, retired teacher, East Texas
Pick-Up Sticks, is a powerful book that addresses several sensitive social issues that have been parts of our society throughout time. The story begins in the tumultuous 60's, - the Viet Nam Conflict, drugs, racism, and equality. Tigner has woven the past and present social issues together seamlessly using both the stark facts and humor. One asks after reading this have things really changed in our society, or are they just less camouflaged today.
Willa Moore, retired social worker, Colorado
If you are from Texas and old enough to remember the 1960s, you will enjoy this nostalgic trip down memory lane that does not leave out the regrettable, such as the racism that tarnishes the memory. If you are not from Texas or have never been, nor recall that era, you will still enjoy the ride, as you experience life in a small East Texas town, with its unique characters and dialect and expressions. You will also learn a few interesting historical facts, some unsavory, about the area and the world. Be forewarned, however. There is an unpalatable subplot smoldering beneath the fun. If you don't enjoy stories that spell it all out for you, you will surely relish this one!
D. Ziv, reader, California
I found this book to be a provocative, poignant and emotionally sensitive dissertation of extraordinarily difficult events in the lives of children and the lasting impact upon their well-being as adults. Their entangled lives will make you laugh, cry and angry as each chapter deftly engages your senses, emotions and intellect. Brooks Tigner's ability to present to the reader a deeply personal relatedness and descriptive characterization of the residents of a small close-knit community in Texas during the mid-20th century is remarkable. This is an engaging novel of yesteryear with topics so critically pertinent in today's world.
Stanley Piotroski, abstract artist, Washington DC
Download the table of contents and a sample chapter.